Boxing is an ancient sport. The Egyptians introduced boxing to the ancient Olympic Games in the late 7th century BC. Ancient boxing rarely resembled the sport you know and love today with Floyd Mayweather, Muhammad Ali, Mike Tyson, Anthony Joshua, Tyson Fury, Eddie Hearn, Deontay Wilder, and Manny Pacquiao.
Fighters utilized a delicate, thin leather strap braided around their fists and forearms for protection. By the 4th century BC, the straps were composed of thick leather and iron brackets, turning them into attack weapons.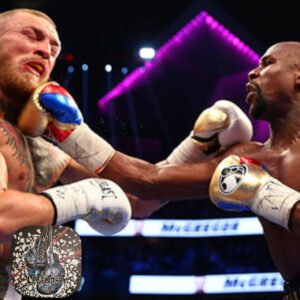 As religion expanded and civilization developed, deathly fist fights stopped for ages. Boxing didn't return to England until 1681. The boxing sport returns to the forefront of sports, bringing together champions yearning for championship opportunities, fame, and glory.
Boxing gained popularity as laws and limitations were developed, making it one of the most exciting sports with WBC, WBA, and WBO. Fans from across the world watch their favorite boxers on ESPN in Las Vegas.
How long are boxing rounds? Good question!
How Many Rounds Are There in Boxing?
So, in Boxing, How Many Rounds are there you ask? Did you know that the longest battle in recorded history lasted 110 agonizing rounds? It wasn't always the case that the final bell in boxing would sound after the 12th round of elite-level and world championship bouts. Early in the 20th century, the 15-round limit became the standard for boxing fights. However, on November 13, 1982, a horrific battle between Duk Koo Kim and Ray Mancini necessitated a revision of the duration and regulations of the cherished sport to increase the safety of the competitors. Kim fell ringside and was brought to the hospital as soon as the 14th round of the grueling main event bout with American Ray "Boom Boom" Mancini ended.
Four days after undergoing emergency brain surgery, Kim sadly died. Mancini's 14th-round knockout victory triggered regulations aiming at enhancing the protection of boxers' health, with the most significant verdict being the reduction of heavyweight champion rounds from 15 to 12.
How Long Does Each Round Last?
You may now be wondering, "How long is each round?" after learning a bit about the boxing classes Chicago's history of this great sport, and how regulations have been developed for safety considerations.
The duration of a boxing round depends on the grade of the contest. For instance, a professional bout will begin at a different time than an amateur, heavyweight championship, or Olympic Match. Age classification will also affect the length of a round, with junior matches having a shorter duration than senior matches. Let's plunge in!
Rounds in Professional Boxing
In the early 20th century, professional boxing, often known as prizefighting, gained legitimacy as a respectable sport. With the development and evolution of rules, top-tier combat evolved into what we all know and love today. The longest battles last three minutes and twelve rounds. Although boxers can go for a maximum of 12 rounds, many fights feature four, six, eight, or even 10. It is up to the match's promoters to choose if it is heavyweight, middleweight, welterweight, or featherweight.
Boxing Rounds Performed by Amateurs
Olympic Commonwealth Games, Pan American Games, and other organizations practice amateur boxing. Competitors are unpaid and compete out of a passion for the sport and national pride. The name "amateur" doesn't mean the fighters are amateurs. These boxers are just as powerful and skillful as those in the professional ranks. Amateur boxing is scored on clean punches rather than knockouts and strength. For males, each round can last three minutes for up to three rounds, whereas for women, each round can last two minutes for up to four rounds.
Rounds for Young Boxers
Youth boxing does not necessarily refer to simply teenagers, but rather to young people boxing in clubs and fight camps for recreation, not to achieve national or worldwide prominence. The round lengths in youth boxing vary dependent on age:
Bantam (8 to 10 years old) – three one-minute rounds.

Junior (11 to 12 years of age) – three one-minute rounds.

Intermediate (13 to 14 years old) – three rounds, each lasting 1.5 minutes.

Senior Junior Olympic (15 to 16 years of age) – three two-minute rounds.

Sub Novice (17 to 34 years of age) – three two-minute rounds.

Seventeen to thirty-four years of age: 10 rounds of two minutes each.

Open (17 to 34 years of age) — up to twelve two-minute rounds.

Master Class (at least 35 years old) – up to twelve rounds of three-minute duration each.
Before each round, there's a one-minute pause.
Lastly
As previously said, boxing has progressed and grown with the safety of each combatant in mind. In addition, boxing is gaining popularity as one of the finest methods to exercise and is no longer only a sport for world champions. Amazing clubs such as Legendary Boxing have transformed this well-liked activity into a safe and effective method to stay in shape!
Legendary Boxing is a fantastic way to get into fighting form while having a great time. Contact the Legendary boxing club at (708)665-2623 for more assistance on boxing and How To Know My Weight Class In Boxing.