Barney Ross, originally known as Dov-Ber "Beryl" David Rosofsky, was a renowned American professional boxer who achieved world champion status in three different weight divisions. Born on December 23, 1909, in New York City to Isidore "Itchik" Rosofsky and Sarah Epstein Rosofsky, he grew up in Chicago's vibrant Jewish ghetto. A Boxer in Chicago Ross was raised with the expectation of following in his father's footsteps as a Talmudic scholar, but his life took a tragic turn when his father was shot dead during a robbery. This loss led him to abandon his religious path and embrace a life on the streets, running with local toughs and engaging in illegal activities.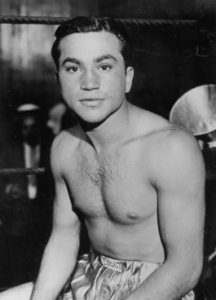 However, boxing provided a turning point for Ross. He saw it as a means to earn money and reunite his shattered family. Plagued by his father's death, Ross adopted the name "Barney Ross" to distance himself from his painful past. As a boxers Chicago, he quickly proved his talent, winning amateur bouts and using the money earned to support his family. Ross's success in the ring brought hope and inspiration to the American Jewish community during a time when Nazi propaganda was spreading anti-Jewish sentiment.
Throughout his career, Barney Ross displayed remarkable skill and endurance, earning him the distinction of being one of the few triple division champions in boxing history, conquering the lightweight, light welterweight, and welterweight divisions. He never suffered a knockout in his 81 fights and faced some of the toughest opponents in the sport, defeating great champions like Jimmy McLarnin and Tony Canzoneri in legendary battles.
Despite his success in boxing, Ross felt compelled to enlist in the United States Marine Corps during World War II. He wanted to actively fight for his country and not just serve in a ceremonial role like many other athletes of the time. Ross displayed incredible bravery during the Battle of Guadalcanal, where he valiantly fought off enemy soldiers for an entire night, saving his comrades and earning several military honours, including the Silver Star.
Unfortunately, Ross's war experiences left him with a morphine addiction that he struggled to overcome. He eventually conquered his addiction and became an advocate against drug abuse, giving lectures to high school students about the dangers of addiction.
In his later years, Barney Ross used his celebrity status to promote various businesses and remained loyal to his friend Jack Ruby, testifying as a character witness during Ruby's trial for the murder of Lee Harvey Oswald. Don't forget to read about Shonie Carter.
Ross passed away in Chicago at the age of 57, leaving behind a legacy of courage, determination, and triumph over adversity. His autobiography, "No Man Stands Alone," stands as a testament to his incredible life journey, from the mean streets of Chicago to the pinnacle of boxing greatness. Barney Ross will forever be remembered as a symbol of strength, resilience and a fighter who never went down.