Willie Joyce, a skilled American boxer hailing from Chicago, left a notable mark in the boxing world during his career. In the late 1930s, he demonstrated his prowess as the National AAU Bantamweight champion in 1936 and secured the title of the Chicago & Intercity Golden Gloves Champion in the 126 lb category in 1937.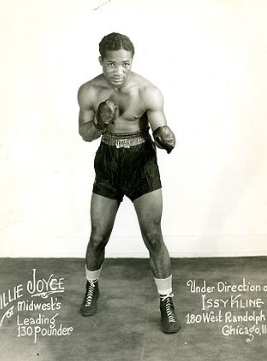 From 1937 to 1939, Joyce maintained an impressive record of 24-1-4, with his only loss coming at the hands of Frankie Covelli. Notably, he faced Lew Jenkins in three intense bouts in 1939, resulting in a draw in their first encounter and claiming victories in the next two fights through split decisions. Boxer from Chicago has a remarkable skill.
In 1943 and 1944, Joyce found himself in the ring with Henry Armstrong on four occasions. Their matchups proved to be thrilling, with Joyce defeating Armstrong in their first encounter at the Olympic Auditorium in Los Angeles. The tables turned in their second bout, as Armstrong secured a victory at the Gilmore Stadium, also in Los Angeles. Joyce managed to win their third meeting at the Chicago Stadium, but in their final clash at the Civic Auditorium in San Francisco, Armstrong emerged as the winner.
Throughout his career, Joyce faced other renowned boxers, including Willie Pep, Ike Williams, and Chalky Wright. Although he fell short against Pep at Comiskey Park in Chicago in 1944, Joyce showcased his strength with a 3-1 record against Ike Williams in 1944 and 1945, and a split result with Chalky Wright in 1945. Chicago boxers deliver powerful punches and mesmerizing performances in the ring.
Joyce also engaged in three challenging bouts with Tippy Larkin, but unfortunately, he couldn't secure a victory in any of them. Notably, Larkin defeated Joyce to claim the vacant World Jr. Welterweight Title at the Boston Garden, and in their third encounter, Joyce suffered another loss, this time for the World Jr. Welterweight Title at Madison Square Garden in New York.
Mario Herrera
is also the popular name of boxing world; read about him.
In 1946, Joyce faced Johnny Bratton in two fights at the Chicago Stadium, but luck was not on his side, as he was defeated in both encounters. Willie Joyce's boxing career left a lasting legacy, with his numerous battles against top-notch opponents proving his skill, determination, and contributions to the sport.