Oliver McCall, a former American professional boxer, enjoyed a long and eventful career spanning over three decades. He is best known for his stunning upset victory over Lennox Lewis in 1994, where he won the WBC heavyweight title. Throughout his journey, McCall faced both triumphs and tribulations, leaving an indelible mark on the sport of boxing.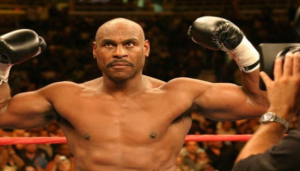 Early Life:
Born on April 21, 1965, in Chicago, McCall later moved to Racine, Wisconsin, to live with his mother. He attended William Horlick High School before transferring to Washington Park High School. McCall was not just a boxer; he was also a talented high school basketball player. In 1981, he returned to Chicago, where he found his passion for boxing and won two Chicago Golden Gloves titles.
Amateur Career:
During his amateur career, McCall competed in the super heavyweight division (+201 lbs). He participated in various tournaments and earned notable victories, displaying his potential as a future professional boxer.
Professional Career:
Dubbed "The Atomic Bull," McCall entered the professional boxing scene in 1985, slowly working his way up the heavyweight ranks. His early years were not without challenges, as he faced defeats against Mike Hunter and Buster Douglas. However, he also secured significant victories against opponents like Al Evans and the boxers from Chicago, who had previously defeated a young Mike Tyson in an amateur fight.
McCall vs Lewis:
Oliver McCall's most prominent moment came in 1994 when he faced Lennox Lewis for the WBC heavyweight title. In a surprising turn of events, McCall knocked Lewis out with his signature counter right hand, claiming the title. This victory marked Don King's return to prominence in the heavyweight division, as none of his fighters had won the heavyweight title since Mike Tyson's defeat in 1990.
He successfully defended his title against Larry Holmes before facing Frank Bruno in 1995. Unfortunately, McCall lost to Bruno in a unanimous decision, resulting in him becoming the first heavyweight champion to both win and lose the title to a British fighter.
Lewis vs McCall II:
In 1997, Lewis and McCall had a rematch in Las Vegas. This fight took a bizarre turn when McCall refused to fight in the fourth and fifth rounds, visibly upset and crying during the match. The referee eventually stopped the fight, awarding Lewis the victory.
Aiming for Another Shot at the Title:
Despite some legal troubles, McCall continued his boxing career and scored significant victories against contenders like Henry Akinwande, DaVarryl Williamson, and Sinan Samil Sam. He showed resilience and determination in his quest for another title shot, showcasing his talent and experience in the ring.
Later Years:
Oliver McCall's Chicago Boxers career continued with ups and downs, including successful defences of his IBA continental belt against fighters like Franklin Lawrence and Lance Whitaker. However, his comeback journey was not without setbacks, as he suffered a unanimous decision loss against Timur Ibragimov. You can read about Barney Ross as well.
Throughout his career, Oliver McCall left an enduring legacy in the boxing world. His victory over Lennox Lewis will forever be remembered as one of the sport's most surprising upsets. Despite facing personal and professional challenges, McCall's dedication to boxing and his remarkable performances in the ring will always be celebrated by fans and fellow fighters alike.