Ezzard Mack Charles, popularly known as the Cincinnati Cobra, was a legendary American professional boxer and World Heavyweight Champion. Renowned for his exceptional defensive skills and precision in the ring, he is often regarded as the greatest light heavyweight boxer in history. Throughout his career, Charles achieved victory over numerous Hall of Fame fighters in multiple weight classes, leaving a lasting legacy in the sport of boxing. His impressive record of 95 wins, 25 losses, and 1 draw solidified his place among the boxing elite, and in recognition of his contributions to the sport, he was posthumously inducted into the prestigious International Boxing Hall of Fame in 1990.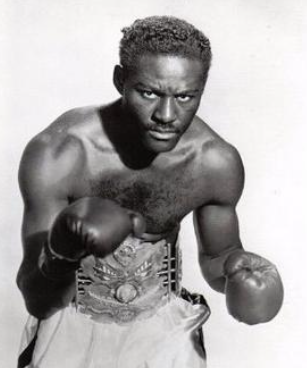 Early Life and Boxing Career Beginnings of Ezzard Charles
Ezzard Charles was born on July 7, 1921, in Lawrenceville, Georgia, and later moved to Cincinnati, Ohio, where he spent most of his childhood. His boxing journey began at a young age, and even during his high school years at Woodward High School in Cincinnati, he was already gaining recognition for his boxing skills. As he entered the boxing world, he adopted the moniker "The Cincinnati Cobra," a name that would become synonymous with his prowess in the ring. Charles swiftly made his mark as a formidable fighter, facing prominent opponents in both the light heavyweight and heavyweight divisions. Although he never claimed the Light Heavyweight title, boxing authority "The Ring" bestowed upon him the title of the greatest light heavyweight in history.
Early Success and Military Service
In the early days of his career, Charles excelled as a featherweight in the amateur ranks, amassing an impressive record of 42 wins and no losses. In 1938, he secured the Diamond Belt Middleweight Championship, followed by a victory in the Chicago Golden Gloves tournament of champions in 1939. The same year, he clinched the national AAU Middleweight Championship. Turning professional in 1940, Charles continued his winning streak, achieving 17 consecutive victories. However, his path to success faced a temporary obstacle when he served in the U.S. military during World War II, halting his professional boxing pursuits in 1945.
Rise to the Heavyweight Championship
Does chicago have any boxers? After the war, Charles returned to the boxing ring as a light heavyweight, where he claimed significant victories over prominent light heavyweights and notable heavyweight contenders like Archie Moore, Jimmy Bivins, Lloyd Marshall, and Elmer Ray. However, his career took a tragic turn when he faced a young contender named Sam Baroudi, defeating him with a knockout in Round 10. Sadly, Baroudi succumbed to the injuries sustained in the bout, leaving Charles devastated. The emotional toll nearly pushed him to quit boxing altogether. Yet, he found a new purpose and ambition, eventually deciding to move up to the heavyweight division. Charles's determination paid off when he secured the vacant National Boxing Association Heavyweight title by outpointing Jersey Joe Walcott over 15 rounds on June 22, 1949. The following year, he accomplished his dream by outpointing his idol, former World Heavyweight Champion Joe Louis, earning recognition as the Lineal Champion.
Legendary Battles with Rocky Marciano
In 1951, Charles faced Walcott for the third time, but this time he lost the title by knockout in the seventh round. Despite the setback, Charles continued to be a dominant force in the heavyweight division, earning wins over Rex Layne, Tommy Harrison, and Coley Wallace. His exceptional performance earned him the opportunity to challenge Heavyweight Champion, Rocky Marciano. Their two epic encounters are etched in boxing history as thrilling and dramatic bouts. In their first battle, held at Yankee Stadium on June 17, 1954, Charles displayed remarkable tenacity, lasting the full 15-round distance against the powerful Marciano, a feat that no one else had achieved. The decision ultimately favoured Marciano, but many fans and boxing experts believed Charles deserved the victory. Their September rematch proved equally intense, with Charles landing a severe blow that split Marciano's nose in half. Although Charles showed great promise, Marciano made a triumphant comeback with an eighth-round knockout.
Later Career and Personal Life
Like many boxers, Charles faced financial challenges that compelled him to continue fighting, which contributed to a decline in his later career. He retired with a respectable record of 93 wins, 25 losses, and 1 draw, with 52 knockouts to his credit. Outside the ring, Charles enjoyed a close friendship with Rocky Marciano and shared a neighborhood bond with Muhammad Ali in Chicago. He even dabbled in acting, starring in the independent film "Mau Mau Drums" in 1960.
A Devastating Diagnosis and Final Days
In 1968, Charles a professional boxers from Chicago was diagnosed with amyotrophic lateral sclerosis (ALS), also known as Lou Gehrig's disease. This debilitating illness affected his legs and eventually left him completely disabled. In a touching gesture, former opponents and boxing peers organized a fundraiser to support Charles during his difficult times. Rocky Marciano expressed deep admiration, calling him the bravest man he had ever fought.
Charles spent his last days in a nursing home, where a poignant 1973 commercial captured the severity of his condition. Ezzard Charles passed away on May 28, 1975, in Chicago, leaving behind a legacy of courage and determination in the face of adversity. He was laid to rest at Burr Oak Cemetery in Alsip, Illinois, leaving behind a remarkable boxing career and an enduring impact on the sport he loved. The Cincinnati Cobra's legacy continues to inspire generations of boxers, and his name remains firmly engraved in the annals of boxing history. Read about Jimmy Barry.