Jackie Fields, born Jacob Finkelstein on February 9, 1908, was an American professional boxer who achieved great success in the welterweight division. Despite a challenging start to his career, Fields went on to win the World Welterweight Championship twice.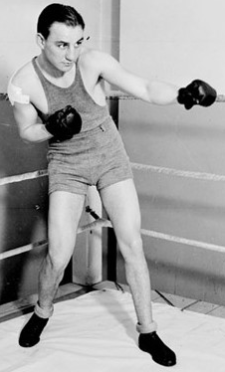 Born in Chicago to a Jewish Russian immigrant family, Fields moved to Los Angeles in 1921. He started his boxing journey at a young age, receiving initial instruction from legendary trainer Jack Blackburn and later training at Jack Dempsey's Gym. Fields showed immense talent as an amateur boxer, gaining recognition for his skills and potential.
Fields faced some early career setbacks, including losses to experienced opponents like Jimmy McLarnin and Louis "Kid" Kaplan. However, these defeats served as valuable learning experiences, and Fields quickly improved his boxing style and technique.
In 1929, Fields achieved a significant milestone in his career by winning the NBA World Welterweight Championship. He unified the title by defeating Joe Dundee in a highly anticipated match, becoming the recognized world champion.
Fields was known for his aggressive boxing style and powerful punches, earning him the nickname "future lightweight champion." He defended his welterweight title successfully against formidable opponents, including Young Jack Thompson and Mushy Callahan.
Tragically, in 1932, Fields suffered a severe injury to his left eye in a car accident, resulting in a detached retina. Despite partial vision loss, he continued to compete and even regained the NBA World Welterweight title in 1932.
In 1933, Fields faced another setback, losing his title to Young Corbett III. After retiring from professional boxing, Fields transitioned into various roles within the entertainment industry, including film editing and acting in several movies and TV programs.
Fields later settled in Las Vegas, becoming part owner of the Tropicana Las Vegas hotel and working as its public relations director. He also served as Chairman of the Nevada State Athletic Commission and coached the U.S. boxing team at the 1965 Maccabiah Games.
Throughout his life, Jackie Fields remained connected to his Jewish heritage and received numerous accolades and inductions into various sports halls of fame. He passed away in 1987 at the age of 79, leaving behind a legacy as a determined and accomplished welterweight champion.