You will enjoy Legendary Boxing Training whether you want to start kickboxing for fitness reasons, to develop strength and coordination, or simply to change up your training regimen. We're on a mission to make kickboxing available to everyone! At our gym, people of all fitness levels are welcome. If you're new to boxing, you might be wondering, "How Fit Do I Need To Be To take Kickboxing Classes?" All of your questions will be answered by us!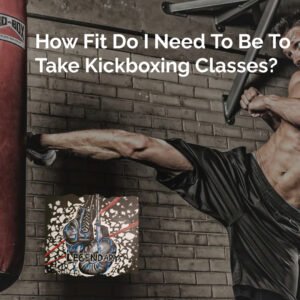 What Should I Do If I'm a Complete Beginner in Kickboxing?
So you want to learn how to kickbox? You've arrived at the right location. Legendary Boxing is the first and only boxing club dedicated to providing the most empowering workout of their lives to people of all ages, bodies, weights, and abilities.
Expert trainers coach you through every element of your training in our Kickboxing and Boxing classes near me. Any of our classes can be adapted to accommodate people of all fitness levels. As a result, we recommend that first-time visitors begin with a boxing lesson and then progress to kickboxing when they're ready for a greater challenge. We always encourage members and visitors to go at their own pace in each class. During your stay at Legendary Boxing Training, you will never feel lost or overwhelmed. Check out our top advice before throwing your first punch if you're intending to schedule your first lesson!
What Are the Health Benefits of Kickboxing?
So now that we've proved that Legendary Boxing Training is beneficial to people of all fitness levels, where do you go from here? When it comes to your kickboxing training, determining your personal goals and aspirations is a great place to start. Do you wish to boost your cardiovascular health or your general fitness? Do you want to slim down? Whatever your goals are, our fitness classes will assist you in achieving them. Our kickboxing training programs benefit the mind and spirit as well as the body.
Kickboxing's Physical Advantages:
Improved Cardiovascular Health 

Strengthening of the Whole Body

Hand-Eye Coordination Improved

Muscle mass increase

Improved endurance and stamina
Kickboxing Has Mental Health Benefits:
Reduced Stress

Improved Sleep Quality 

Boosted Self-Belief

Joining a Group of Like-Minded Individuals
Be open and honest about your limitations.
We always encourage our guests and members at Legendary Boxing to listen to their bodies and understand their boundaries. Consult your doctor before starting a new sport if you're concerned about your fitness level. Kickboxing is for everyone, and all classes may be adapted, however it may push your body in new directions. Before embarking on your health journey, be sure you're in good physical and mental shape. We'll be there to support you every step of the way!
What's the bottom line? It's vital to remember that a kickboxing session isn't a competition, but rather a workout and a chance for those who are interested to know How Effective Boxing Training For Weight Loss Is. You've come to Legendary Boxing Training to pick up a new skill, get in fitness, and have a good time. Call us today at (708)665-2623 and try a boxing session today to improve your fitness!