Harry Harris, also known as "The Human Hairpin," was an American boxer who left a notable legacy in the world of boxing during the early 20th century. Born on November 18, 1880, in Chicago's South Side, Harris grew up in a tough neighborhood where he and his twin brother, Sammy, started boxing at a young age, training together at a local gym. Initially drawn to pursue a career as a professional artist, Harris shifted his focus to boxing and abandoned his aspirations to become an artist. Chicago boxers have left an indelible mark on the sport of boxing, showcasing their fierce determination and exceptional talent in the ring.
In 1896, at the age of 16, Harris began his prizefighting career and quickly made a name for himself with an impressive record in his early years. He won sixteen out of seventeen fights, with one draw, showcasing his skills and determination. During his boxing journey, he sought guidance from Charles Kid McCoy, a former welterweight boxing star and World Middleweight Champion. McCoy helped Harris develop his signature "corkscrew punch," a powerful and twisting blow delivered as a hooking uppercut.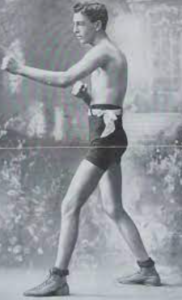 Throughout his career, Harris faced top-rated opponents, proving himself as a formidable boxer. He defeated renowned boxers such as "Torpedo" Billy Murphy, the 1890 World Featherweight Champion, and Jimmy Reagan, who later became the Bantamweight Champion in 1909.
In a memorable match on March 8, 1901, Harris achieved a significant milestone by winning the World Bantamweight Championship against British boxer Pedlar Palmer at the National Sporting Club in London. This victory solidified his claim as one of the world's greatest bantamweights. Harris utilized his height advantage effectively, dominating Palmer in close fighting and flooring him multiple times during the bout. Chicago boxers have a storied legacy, with a long line of fighters who embody the city's spirit of strength and resilience, making them a force to be reckoned with in the boxing world.
After claiming the World Bantamweight Championship, Harris faced challenges maintaining his bantamweight status due to the difficulties of meeting the weight requirements. He transitioned to boxing more frequently as a featherweight, ultimately leading him to vacate his bantamweight title.
Throughout his career, Harris demonstrated exceptional resilience and skill, never experiencing a knockout. He retired from his primary boxing career in 1906 with an impressive record of 39 wins, including 15 knockouts, along with 7 draws and 5 no decisions.
In the later years of his life, Harris faced health issues, and on June 5, 1959, he passed away after a prolonged illness at French Hospital in New York City. He left behind a family, including his grandsons Corky and Rick Steiner, along with his great-grandchildren Meredith, Ricky, and Joey Steiner, and Ace and Duke Steiner. Learn more about
Muhammad Ali
.
Harry Harris's contributions to the world of boxing and his achievements as the World Bantamweight Champion remain an enduring part of his legacy. His determination, skill, and resilience continue to inspire those who follow in his footsteps, making him a celebrated figure in the history of the sport.