Georgios "George" A. Contas, known by his ring name George "Knockout" Brown, was a prominent Greek American middleweight boxer hailing from Chicago, Illinois. Born on August 25, 1890, he left an indelible mark on the sport of boxing during the early to mid-20th century.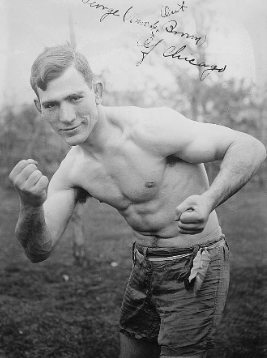 Growing up in the vibrant city of Chicago, George Brown discovered his passion for boxing at a young age. He honed his skills and quickly made a name for himself in the local boxing scene with his powerful punches and relentless determination inside the ring.
In the golden era of boxing, George Brown faced some of the toughest opponents of his time, showcasing his talents in thrilling bouts that captivated audiences. His nickname "Knockout" was well-earned, as he possessed devastating knockout power that earned him the respect and fear of his adversaries.
Beyond his exceptional boxing abilities, George Brown was admired for his sportsmanship and humble demeanor outside the ring. He was known for his graciousness in both victory and defeat, earning the admiration of fans and fellow boxers alike.
George's journey as a Greek American boxer served as an inspiration to many, especially within the Greek American community. He represented a symbol of pride and resilience, breaking barriers and achieving success in a time when opportunities for immigrants were limited.
As his boxing career progressed, George Brown became a beloved figure in Chicago's sports scene. His matches drew large crowds, and he became a local hero for his contributions to the city's boxing legacy.
After a successful and impactful career, George "Knockout" Brown retired from professional boxing. Despite stepping away from the spotlight, his legacy continued to shine brightly within the annals of boxing history.
On September 21, 1971, George Brown passed away, leaving behind a rich legacy as a pioneer for Greek American athletes and a legendary figure in the world of boxing. His life and achievements continue to be celebrated, and he remains an enduring symbol of dedication, courage, and determination for aspiring boxers and sports enthusiasts alike.