Peloton recently unveiled Get Hooked, a whole new boxing curriculum. I'll go over all there is to know about peloton boxing and what to expect in this article. The peloton has 14 boxing lessons in total, which is a 2-week hard full-body exercise that not only burns a lot of calories but also teaches fundamental movements like footwork, self-defense, shadowboxing, and more.
It also includes a number of cardio programs that involve components of kickboxing and boxing, which burn a lot of
calories.
Peloton Boxing is a boxing program for cyclists.
The Get Hooked Peloton Boxing program is a 14-day program that can be found on the Peloton app. This is a collection of 14 lessons ranging in length from 5 to 30 minutes and ideal for people of all fitness levels. This is a high-calorie-burning bodyweight training routine led by Kendall Toole, Selena Samuela, and Rad Lopez, among the greatest peloton instructors.
What I like about the new Peloton boxing exercise plan is that it follows the progressive overload theory, which means you concentrate on the fundamentals of boxing in the first week and shadowboxing in the second.
The sole disadvantage of this program is that it only lasts two weeks, with the second week consisting of only three days of boxing.
Is Peloton Boxing A Viable Option?
The peloton boxing program is efficient in general because it incorporates high-intensity cardio with boxing skills such as punches, hooks, and kicks. Stretching and core exercises are also included.
Schedule for Peloton Boxing Workouts
There are two parts to this curriculum. The first week is spent learning the basics of boxing. The majority of the courses focus on good technique, footwork, and breathing patterns.
Week 1 of the Peloton Boxing Workout is listed below.
Monday: 20 min Boxing basics
Tuesday: 20 min Basic boxing combinations
Wednesday: 20 min Basic Boxing Footwork
Thursday: 20 min Basic Boxing Defense Practice
Friday: 20 min Boxing basics
Saturday- Sunday: N/A
As you can see, the first week is all about getting you ready for the fundamentals of boxing. Each lesson is unique and will assist you in becoming more comfortable with this activity.
This week, you'll learn how to manage your movements with proper balance and use your core in the boxing stance.
What is the significance of boxing stance?
 The boxing stance is significant as a whole because it serves as a basis for both defense and offense. A proper boxing posture not only helps you create greater force with your punches, but it also defends you from the opponent's hits.
Please keep in mind, too, that this is not a professional boxing regimen. It's more about having fun and diversity than being a "fighter."
Week 2's workout schedule is below.
Monday: 5 min Full Body Warmup
30 min Shadowboxing
5 min Full Body Stretch
Tuesday: N/A
Wednesday: 5 min Full Body Warmup
30 min Shadowboxing
5 min Full Body Stretch
Thursday: N/A
Friday: 5 min Full Body Warmup
30 min Shadowboxing
5 min Full Body Stretch
Saturday- Sunday: N/A
The second week features fewer training days, but each day is jam-packed with three lessons, as you can see.
What Do You Think About Kickboxing Classes?
Kickboxing lessons aren't accessible in the peloton app in general. However, some HIIT cardio with kickboxing aspects can be seen.
Selena Samuela, one of the peloton instructors, is well-known for incorporating several martial arts skills into her exercise sessions.
Boxing is a sport that I enjoy since it allows me to improve my cardio and conditioning. Jumping rope, burpees, jabs, and kicks are all common high-intensity components of a standard boxing lesson.
Regular activities such as squats, twists, lunges, and bear crawls are also visible.
Is boxing a healthy cardiovascular exercise? 
Boxing is a fantastic cardio exercise in general since it uses your entire body and keeps your heart rate elevated. A good boxing class will incorporate a lot of leg training, high knee kicks, jabs, and sometimes even plyometrics.
Boxing and kickboxing fitness sessions are, in fact, among the most popular in gyms. It not only burns a lot of calories, but it also helps you de-stress and relax.
5-week kickboxing training (3 hours per week) enhanced muscular power, aerobic capacity, anaerobic fitness, flexibility, speed, and agility, according to studies.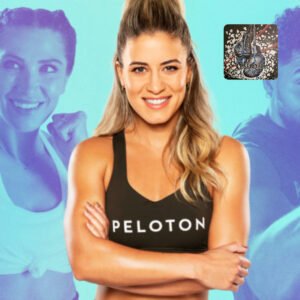 Is Boxing Better Than Working Out in the Gym?
Overall, boxing isn't superior to working out in the gym with weights since gym exercises with weights aid to increase muscle protein synthesis and development in the most efficient method. They also have a greater effect on metabolic rate and lean body mass than boxing. Boxing, on the other hand, is a terrific cardio and health option for folks who can't run or do too many HIIT workouts due to damaged knees or backs. It's not only more enjoyable, but also more difficult.
Naturally, there are several sorts of boxing lessons. Boxing is included into one lesson that is more akin to aerobic choreography. The other is carried out in a boxing gym.
Boxing in a health club
If Peloton ever introduces local boxing classes or kickboxing courses, they will be similar to those seen at fitness centers. Les Mills BodyCombat is the most well-known example in the world.
What is the difference between BodyCombat and Les Mills BodyCombat?
 Les Mills BodyCombat is a collection of aerobic classes set to music that imitates the movements of boxing, kickboxing, karate, and other martial arts. Those courses begin with the fundamentals, and each aspect contributes to the overall choreography. The motions are usually performed in a rhythmic pattern with no breaks in between.
Boxing In the boxing gym
The real fighting classes at the boxing school are another form of boxing class. Technique is emphasized in these lessons, along with cardio and sparring with pads and mitts.
A reputable boxing school will have a former boxer as an instructor and will focus a large percentage of the training on proper form, footwork, striking technique, stance, and guard, among other things. There isn't much choreography or music in this style of class. Instead, you follow a structured curriculum in which you acquire abilities and improve on them until you're ready to spar with the rest of the class.
In addition, boxing equipment such as punching bags and fighting rings are usually available in the gym.
Is There Going To Be More Boxing On Peloton?
Boxing will be included in the peloton's class library as a whole. It's also unknown what kind of boxing classes Peloton will provide, as well as whether or not the firm plans to sell boxing equipment, accessories, or gear.
I feel that a distinct category for peloton kickboxing would be a wonderful addition to the peloton app courses because, like yoga, boxing does not require any additional equipment.
Some firms, such as Liteboxer and FightCamp, have introduced their flagship at-home boxing equipment, which allows you to pound the punching board while linked to the app. However, in my view, a standard punching bag is preferable.
Conclusion
There are currently no boxing or kickboxing courses available in the peloton. Selene, on the other hand, claims that the corporation is planning to establish a new category of programs that would involve martial arts. It's unclear whether the peloton will release a hardware machine or even a branded punching bag.
Some of the Selene aerobic routines involve a lot of kicks, punches, hooks, and other fighting characteristics, if you're looking for peloton sessions with kickboxing elements.
If you want more info on us here at Legendary Boxing Training or Peloton's boxing Classes visit our site today at legendaryboxingtraining.com.