David Díaz, born on June 7, 1976, is a retired American professional boxer with a career that spanned from 1996 to 2011. He achieved recognition in the boxing world by holding the WBC lightweight title from 2007 to 2008.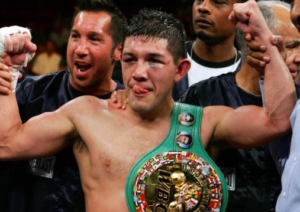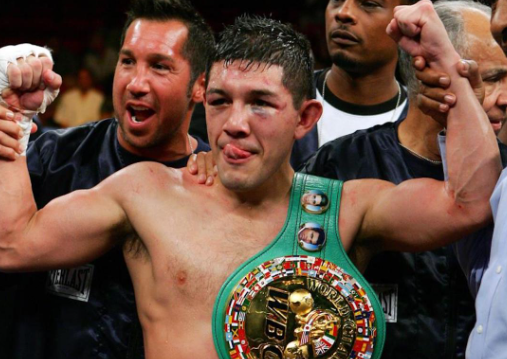 During his amateur career, Díaz was part of the 1996 US Olympic Team as a Light Welterweight. Notably, he defeated Zab Judah twice within 8 days and Jacobo Garcia from the Virgin Islands by RSC in the third round. However, he faced a loss against Oktay Urkal from Germany with a score of 6-14. In addition, Díaz secured several victories in prestigious competitions, winning the Chicago Golden Gloves four times and the National Golden Gloves three times, earning him the 1996 National Golden Gloves light welterweight championship.
As a professional boxer, Díaz showed great promise with an undefeated record of 26-0 until he suffered a TKO loss to Kendall Holt in the 8th round. He later went on to claim the interim title after defeating José Armando Santa Cruz on August 12, 2006. Subsequently, he was awarded the WBC lightweight title on February 20, 2007, following the stripping of the title from Joel Casamayor, the reigning champion at that time.
One of the most significant moments in Díaz's career was his controversial unanimous decision victory over Mexican legend Erik Morales on August 4, 2007, where he successfully defended his title. However, his reign was short-lived, as he faced defeat against Manny Pacquiao via TKO in the 9th round on June 28, 2008, resulting in Pacquiao becoming a five-division world champion.
After a period of inactivity, Díaz returned to the ring on September 26, 2009, to face Jesús Chávez, whom he defeated by a majority decision. However, in his attempt to reclaim the WBC lightweight title on March 13, 2010, Díaz was unsuccessful, losing to Humberto Soto via unanimous decision.
Outside of boxing, Díaz is actively involved in mentoring youth and remains an influential figure in the Mexican-American community of Chicago. He also endorsed a friend and former boxer, Bill Evans, as a candidate for Cook County Sheriff in 2014.
David Díaz, beyond his accomplishments in the boxing ring, is known for his strong character, dedication to his community, and contributions outside of boxing. Born and raised in Chicago, he is proud of his Mexican-American heritage and has remained deeply connected to the Mexican-American community in the city.
Throughout his boxing career, Díaz was not only a fierce competitor but also a role model for many young aspiring athletes. He has been actively involved in mentoring and supporting youth in the Chicago area, inspiring them to pursue their dreams and overcome challenges. His dedication to empowering the younger generation has earned him respect and admiration from both boxing enthusiasts and members of the community.
Beyond his mentoring efforts, Díaz has been a driving force in community initiatives and events. He has participated in various charitable activities, fundraisers, and community outreach programs, using his platform as a former world champion to raise awareness and support important causes. Díaz's involvement in the 26th Street Mexican Independence Parade as the Grand Marshal in the Pilsen neighbourhood of Chicago is a testament to his commitment to celebrating and preserving his heritage.
Moreover, Díaz's endorsement of Bill Evans, a friend and former boxer, as a candidate for Cook County Sheriff reflects his interest in contributing to positive change and leadership within the community. This shows that Díaz is not only concerned with sports but also with promoting individuals who have a genuine commitment to serving the people.
Even after retiring from professional boxing, David Díaz's influence continues to extend beyond the sport. He remains a respected figure in Chicago and a source of inspiration for many. His legacy as a dedicated athlete and a compassionate community leader has left a lasting impact on the lives of those he has touched, making him more than just a former boxing champion but a true role model for others to follow.