What Are The Youth Boxing Weight Classes
Boxing is a combat sport that is also a terrific workout. Boxing has many more benefits. It is gaining popularity among adults and children in the USA.
A boxer may fight in many weight divisions. Professionals tend to climb up in class as they mature. Being a "multiple champion" means winning numerous weight divisions. Amateur boxers compete at their "natural" weight and fight in shorter, more frequent fights.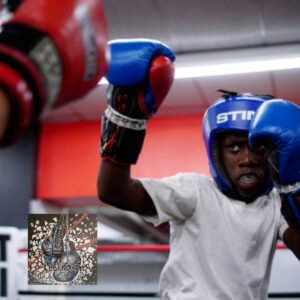 There is seven weight classes for the youth. They include:
flyweight– upper weight limit of 108 pounds, between minimumweight and flyweight.
heavyweight

limit

 of 

200

 

pounds

 

(90.7

 

kilograms),

 

between

 

light

 

heavyweight

 

and

 

heavyweight.

Youth middleweight

having

 an 

upper

 

limit

 of 

154

 

pounds

,

 

between

 

welterweight

 

and

 

middleweight.

Junior welterweight 

having

 an 

upper

 

limit

 of 

140

 

pounds

 

(63

 

kilograms),

 

between

 

lightweight

 

and

 

welterweight.

lightweight

having

 an 

upper

 

limit

 of 

130

 

pounds

 

(58.5

 

kilograms),

 

between

 

featherweight

 

and

 

lightweight.

Jr featherweight

having

 an 

upper

 

limit

 of 

122

 

pounds

,

 

between

 

bantamweight

 

and

 

featherweight.

Junior bantamweight

having

 an 

upper

 

limit

 of 

115

 

pounds

,

 

between

 

flyweight

and

 

bantamweight.
Better "pound for pound" means better regardless of weight difference. In both scenarios, the contenders could never confront each other in reality, yet theoretical comparisons between boxers from various weight classes are popular among boxing enthusiasts.
So, why should your kids learn how to box? How can kids profit from boxing?
Here are ten reasons why youngsters should box.
Using Energy
We forget that youth boxing training near me is a sport with physical demands. It's a terrific way for kids to exercise, relax, and burn off some of their boundless energy. Boxing is a sport that requires a wide range of abilities. Kids devote a lot of energy developing these abilities in and out of the ring. They may be a future champion!
Boosting Self-Belief
Like other sports, boxing offers the benefit of building confidence. It's more than simply punching in the ring.
A child's confidence may grow by learning from mistakes, improving punching technique, and training. They'll learn more about themselves, their skills and shortcomings, and how to be proud of their accomplishments.
Convincing them to throw punches, listen to their coach, and enhance their talents.
Teaching Nonviolence
Boxing teaches kids about non-violence right from the start.
How?
Boxing is a violent sport, but it's highly regulated, and there's a time and place for it.
Boxers must not use violence outside of a fight. After all, a boxer who uses his abilities outside of a sanctioned contest risks losing his license. The ring is the one place they can be aggressive.
Boxing is a good method to channel violence.
Getting to Know Your Body
Boxing teaches kids about their bodies, their talents, and their limitations. These activities will help them to engage their mind, body, and soul.
While winning isn't required, it will motivate them. Their bodies are tools to help them attain their goals. They need to thoroughly grasp it to maximize their potential.
Limits pushed
In addition to the aerobic and fitness benefits, boxing encourages kids to push themselves beyond their limits. They'll learn more about pushing themselves and going further via competition and fitness. They'll improve in the gym or the ring. Boxing instills passion and a will to win. The same goes with boxers.
To achieve a goal, rather than to defeat an opponent, is an essential life lesson for both children and adults. Similarly, a boxing session will have youngsters sweating, getting an aerobic workout, and boosting their stamina. Boxing gyms are named such.
Strengthening theirs
Control is key in boxing. Adults and kids will learn to control their strength. When sparring, the emphasis is on correct boxing technique (footwork, jab, hook, uppercut, etc.) rather than raw power.
Athletes will be taught to regulate their strength in order to deliver effective blows. Despite being a fighting sport, boxing has many principles with martial arts, such as respect.
Respect is one of the first lessons boxers learn. Because boxing combines the mind, body, and soul, you must realize that you are not alone.
In the squared circle, opponents will perceive themselves as equals. Even in boxing, children rapidly learn to respect their opponents.
Rules Observance
This is vital in boxing. Before starting boxing, the coach or tutor will make this very apparent to the youngster. After all, boxing is a violent sport with strict regulations for both competition and training.
Children will be expected to obey all boxing regulations both inside and outside of their training sessions, courses, or tutorials. Remember that regulations are important in any sport and that breaking them will not help you improve.
Overcoming Obstacles
Boxing is a sport that combines fitness, cardio, and fighting. Boxing can teach kids many vital lessons. We all get knocked down. Don't give up. A boxer must get up and retry.
Self-defense classes
Finally, boxing promotes respect for others and self-defense. After all, boxing is a conflict with rules.
But striking is only half of a boxing bout; you must also learn to defend. Children may learn self-defense without harming others. It teaches you to stay calm under pressure and to anticipate your opponent's strikes.
So, are you sold on the benefits of boxing for kids?
The family may have a future world champion.
If youngsters don't like boxing, they might benefit from other combat sports and martial arts. The same benefits as exercise courses may be obtained through boxing, kickboxing, karate, muay Thai (Thai kickboxing), and Brazilian Jiu-Jitsu instruction.
If you want your youngster to learn youth legendary boxing training, check out Carlos Jones, an experienced and excellent coach. While there are hundreds of skills to learn, most sessions are either in-person, online, or group. It is important to consider the pros and cons of each tutoring technique.
Group tutorials are ideal for people on a budget, as multiple students attend and share the cost. Despite the fact that there are hundreds of skills to learn, the majority of classes fall into one of three categories: in-person, online, or group. Because each style has its own set of advantages and disadvantages, you must choose which type and teacher is best for you.
A personal tutor may build a personalized curriculum for each student and spend every minute of the session to them. As a result, the teacher must spend extra time outside of class customizing the course.
Finally, if you need specialist training but can't afford it, you may always take online classes. Online video conferencing allows you to learn from professors worldwide. You may wish to be there throughout your child's boxing classes to protect their safety.
Boxing is a great activity for kids. In short, it teaches DISCIPLINE AND HANDS. Enroll your kid in our Legendary Kids Boxing & Fitness program to build confidence, strength, stamina, skill, teamwork, leadership, and more. We'll teach them the principles of boxing so they can fight. We recognize that many parents want health and cardio, and boxing is a very high cardio sport!