Johnny Coulon, born on February 12, 1889, was a Canadian-American professional boxer who achieved significant fame as the world Bantamweight Champion from March 6, 1910, when he won the title from Jim Kendrick of England, until June 3, 1914, when he suffered a defeat at the hands of Kid Williams in Vernon, California. Apart from his boxing career, Coulon later became a boxing manager, overseeing the careers of notable fighters such as Eddie Perkins.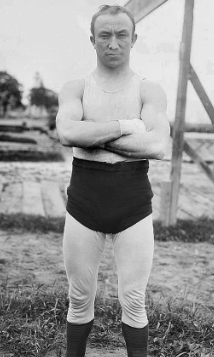 During his time as the Bantamweight Champion, there was some controversy surrounding the recognition of the title by different boxing associations. While some American newspapers and the World Boxing Association acknowledged Coulon's initial championship win on February 26, 1911, against Frankie Conley in New Orleans, there were differing opinions on the validity of the title.
Born in Toronto to American parents Emile Eugene Coulon and Sarah Loretta Waltzinger, John Coulon grew up in Chicago during the turn of the century. He started boxing as a prelim fighter, gaining recognition as "The Cherry Picker from Logan Square." At the age of seventeen, Coulon received a life-saving medal from the U.S. government, and he began his amateur boxing career in Chicago two years prior, displaying knockout victories in many of his fights.
Coulon turned professional at the age of 16 and reached championship status at 21, managing an extensive career from 1905 to 1920. Managed by his father, Emile E. "Pop" Coulon, he amassed an impressive record, although there were debates on the exact number of bouts he fought. He gained recognition as the American bantamweight champion after a rematch with Kid Murphy in 1908, though some disputed its status as the World Bantamweight Title.
Throughout his boxing career, Coulon faced numerous formidable opponents, including Kid Williams, Pete Herman, and Charley Goldman. His memorable fights included a historic bout against Frankie Conley, which many consider as the moment he undisputedly claimed the World Bantamweight Title in 1911.
After losing the title to Kid Williams in 1914, Coulon served in the United States Army during World War I, where he often instructed soldiers in combat techniques. He returned to boxing briefly after his military service and later retired in 1920 with an impressive overall record.
Following his retirement, Coulon embarked on a unique stage act, where he challenged members of the audience to lift him off his feet, demonstrating a trick involving pressure on a nerve. Additionally, he opened Coulon's Gymnasium in Chicago with his wife, Marie Maloney, who also managed the gym and matched fighters for both professional and amateur bouts. The gym became a popular spot for legendary boxers, and Ernest Hemingway and LeRoy Neiman were among the visitors.
Coulon's association with boxing history was remarkable, as he was a close friend of Jack Johnson and served as a pallbearer at the legendary champion's funeral. He remained active in the boxing scene and managed fighters, continuing to be a revered figure in Chicago during the 1960s.
At age 84, John Frederic Coulon passed away in 1973 in Chicago and was buried alongside his wife, Marie, in St. Mary's Cemetery. His legacy as a great boxer and influential figure in the boxing world remains, leaving behind a lasting impact on the sport he loved.